Ready-Mix Concrete Supplier
Westview Concrete Corp is a leading ready-mix concrete supplier in Olmsted Falls, Elyria, Avon, and the Cleveland, Ohio area.
HOW IS READY-MIX CONCRETE DELIVERED?
Ready-mix concrete is delivered in cylindrical trucks, often called concrete mixer trucks, with the concrete in a plastic state ready for placement upon delivery. Distribution tracking is easily done via construction scheduling software. However, since ready-mix concrete must be placed immediately after delivery to avoid premature hardening, it's vital that the placing arrangement and formwork is prepared in advance.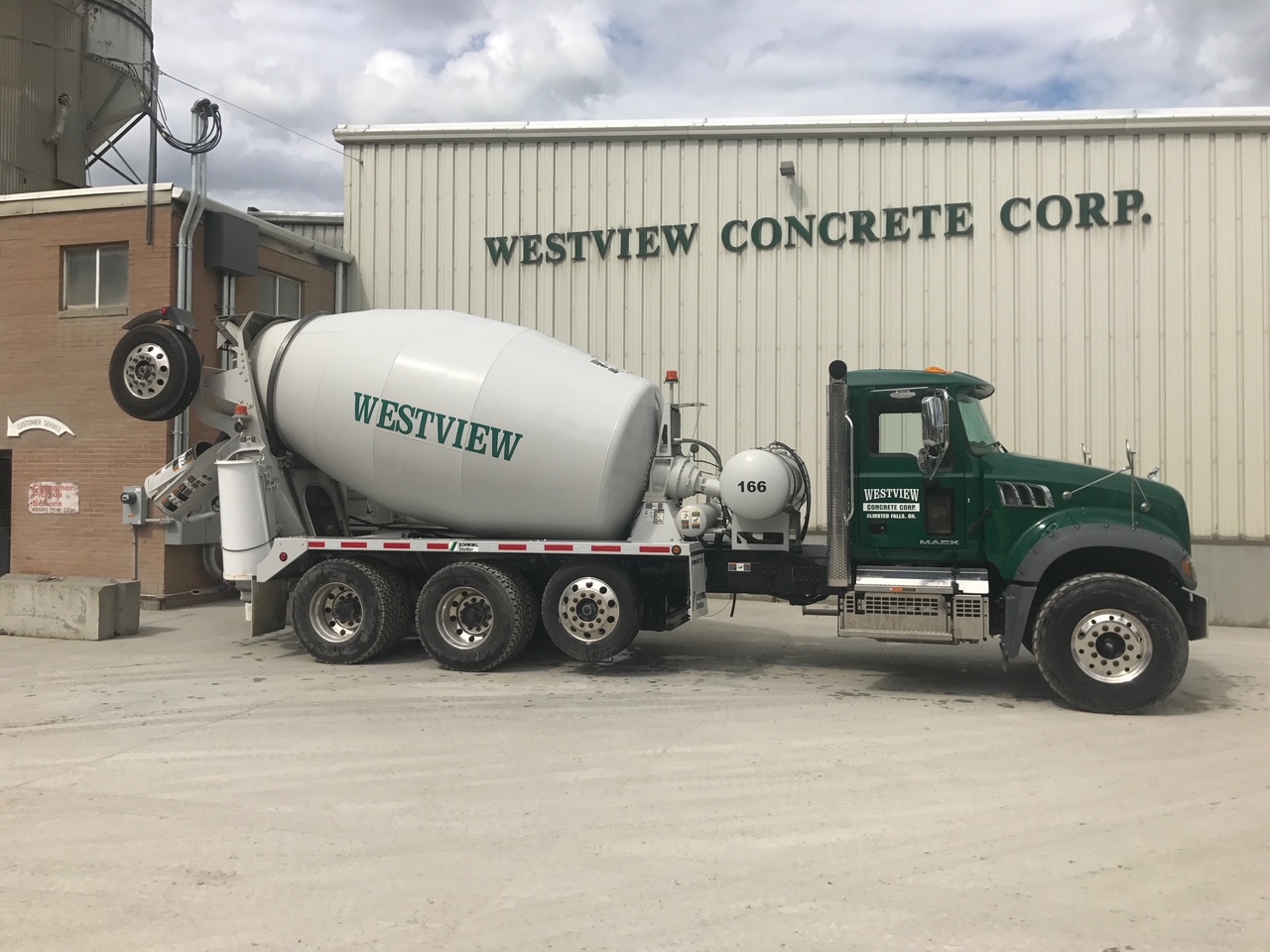 HOW FAR CAN READY-MIX CONCRETE TRAVEL?
Ready-mix concrete is a perishable product. If the concrete spends too much time in the mixer truck, there will be a loss in quality and workability of the product once it is finally delivered to the construction site. For this reason, Westview Concrete Corp only supplies ready-mix concrete to sites within a 30-minute drive from our plants. Transporting ready-mix concrete during rush-hour traffic will reduce how far we can travel before the concrete starts to degrade. Contact us to find out if your construction site is within our service area of Olmsted Falls, Elyria, or Avon, Ohio.
HOW LONG CAN READY-MIX CONCRETE REMAIN IN THE MIXER & STILL BE USED?
The ASTM C-94 Standard Specification for Ready Mixed Concrete dictates that discharge of the concrete must be completed within 90 minutes after introducing water to the mixture.
HOW MUCH READY-MIX CONCRETE DO I NEED?
Ready-mix concrete is measured in cubic meters (m³) and is sold by volume. To determine the amount of ready-mix concrete you need, perform the following calculation: thickness (ft) × square footage (ft²) = cubic feet (ft³). To convert cubic feet into cubic yards, multiply the result by 0.037. If you're unsure how much ready-mix concrete you need, contact us to get a free estimate.
HOW DO I ORDER READY-MIX CONCRETE?
When ordering ready-mix concrete, we need to know as much as possible about your concrete project so that we can supply you with the correct quantity of concrete and the right type of admixture. This includes factors such as whether your project is interior or exterior, if the job site will have ample room for our mixer truck, and your PSI requirements for the concrete. Since each ready-mix concrete batch is custom-made, pricing will vary.
We ask that our customers place their orders with our dispatch no later than 4PM on the day before it is needed. Please confirm your order at least 2 hours before your scheduled pour. If you have any questions about your concrete project, please call our dispatchers for more information at (440) 235-1800.
WESTVIEW CONCRETE CORP: LEADING READY-MIX CONCRETE Supplier IN CLEVELAND, OHIO
Contact us to learn more about our ready-mix concrete and discuss how we can meet the unique needs of your concrete project.