Choose ProVia for a wide selection of attractive, durable, high-quality manufactured stone products.
Click here to view all ProVia Stone Veneers.
Click here to view ProVia Stone Accessories.
processing and delivery
At Westview Concrete Corp we offer quick turnaround on orders––processing and delivery usually takes just 3-5 business days.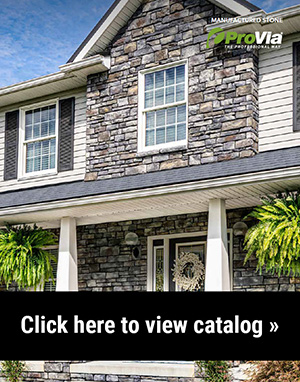 Stone Veneers
ProVia stone veneers are designed to look like natural stone. In fact, every product line is based on existing stone that embodies the rich hues and textures of a specific geographic area. Creators study contrasts between shadow and natural pigments, then they transfer the essence of these stones to master molds. Each dramatic element is recreated, using raw pigments and oxides for the richest color and most realistic end result. Because pigments are used throughout the entire stone and not just on the face, ProVia veneers allow for natural weathering and can stand up to the elements.
Use ProVia stone veneers and stone accessories to add beauty and a natural warmth to both interior and exterior design plans.
Thoughtfully Designed, Carefully Crafted––Manufactured Stone by ProVia
Stone veneers are so realistic, even the most discerning eye won't be able to tell the difference. Only very close inspection of ProVia products gives away the truth, and that's just as it should be. If molds are handcrafted using genuine stone models, then veneers should look and feel like what's found in nature. That's what you can expect from ProVia stone veneers––they capture the depth of detail found in natural stone.