Allan Block's innovative Fieldstone Collection brings a new concept to retaining wall construction. While AB Fieldstone landscape walls have a beautifully natural and rustic facade, their main structure comprises more utilitarian recycled materials. This dual-component system enables concrete block garden walls to capture the essence of natural stone while being lightweight, easy to handle, affordable, and environmentally friendly. Consistent dimensions make for easy installation. Westview Concrete Corp. currently stocks AB Fieldstone blocks in the Colonial Series.
Learn more at allanblock.com »
The First Eco-Friendly Concrete Retaining Wall
Introducing the first Eco-Friendly mortarless concrete retaining wall system - the AB Fieldstone Collection. Using recycled materials has allowed for a more "green" retaining wall system that is safe for the environment and is able to use post consumer materials without taking away from the quality of the blocks.
With the look and appearance of natural stone, this system is sure to meet the aesthetic needs you have come to expect. The lightweight units install quicker and easier than natural stone and lock securely together to build landscape walls up to large commercial walls.
AB Fieldstone is Green, Natural and Friendly
Green: By using recycled materials, we have created a block with the same quality you expect from Allan Block products and does not deter from the aesthetics and look of the system. AB Fieldstone retaining walls can help projects achieve LEED points in 14 different credits.
Natural: The beautiful Colonial Series texture gives the AB Fieldstone the look of natural stone in a fully engineered product. The wall will always have a random appearance.
Friendly: The lightweight blocks install quicker and easier than natural stone and are produced with consistent heights. Corner units are included in each pallet for ease of ordering and constructing.
Shapes
8 x 12 Facing Unit With Short Anchor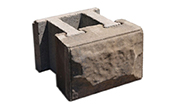 l: 12"
w: 13"
h: 8"
8 x 12 Facing Unit With Long Anchor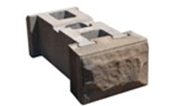 l: 12"
w: 23"
h: 8"
Cap Unit
l: 12"
w: 17.5" (front)
h: 3.5"
8 x 24 Facing Unit With Short Anchor<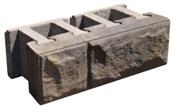 l: 24"
w: 13"
h: 8"
8 x 24 Facing Unit With Long Anchor<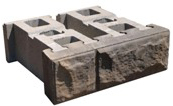 l: 24"
w: 23"
h: 8"
These photographs are a close representation of the actual colors. Due to the photographic reproduction limitations, exact color fidelity is difficult to obtain. These photographs are also a representation of a range of colors, sizes and shapes and variations in color can be expected. Actual samples should always be viewed before making a final decision.